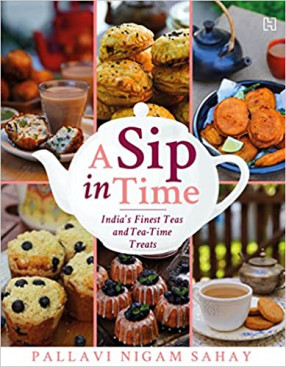 Preview now
A Sip in Time: India's Finest Teas and Teatime Treats
Synopsis
In an exclusive blend for experts and enthusiasts alike, well-regarded chef and tea connoisseur Pallavi Nigam Sahay brings together culinary expertise, wide-ranging travel and her passion for the beverage in a sumptuous visual book, lush with photographs.
Infused with personal experience, her exploration of the various kinds of Indian tea, their histories, and the unique qualities that make them coveted around the world, it brings alive the taste and aroma of each tea it encounters - from the traditional Phalap and the robust varieties growing in Assam to the fragrant Darjeeling and the delicately nuanced brews from Arunachal and Munnar.
Lovingly paired with the teas are recipes for over 60 delectable dishes - spanning cakes, puffs, biscuits and sandwiches to breads, cookies, chaats and muffins - making A Sip in Time the perfect companion for teatime tete-a-tetes for home chefs and foodies alike.
Read more