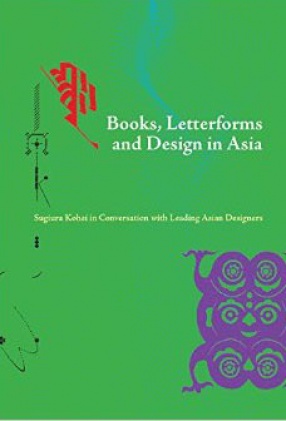 Preview now
Books, Letterforms and Design in Asia
Synopsis
This book presents a philosophy of Asian graphic design through a series of wide-ranging illustrated dialogues between Sugiura Kohei of Japan and his colleagues Ahn Sang-soo and Chung Byoung-kyoo from Korea, Lu Jing-ren from China, Huang Yung-sung from Taiwan and R.K. Joshi and Kirti Trivedi from India. These designers, whose work transcends national boundaries, discuss varied topics including the allure of Chinese and Japanese characters, Korea's Hangul and India's Devanagari; the world of traditional books and what they offer us today; and their own unique approaches to design that build on past traditions as well as contemporary trends, from an Asian perspective.
While Sugiura skilfully draws out the essence of his six colleagues' aesthetic vision and design traits, his own outstanding contributions as designer and teacher are revealed in his conversation with Tsuna Kaitaro, a famous Japanese writer, editor and critic. Further, a lively three-way conversation between Sugiura, Ahn Sang-soo and Lu Jing-ren illustrates the breadth of their interests and how much the various Asian cultures have in common.
Originally published in Japanese and later in Chinese and Korean, it is hoped this edition will communicate the thoughts of these Asian creative minds to English-language readers across the world.
Contents: 1. Discovering an Asian Grammar of Design: A Conversation with/Tsuno Kaitaro. 2. The Letterforms of India: The Hidden Aesthetic Richness of the People/Sugiura Kohei. 3. Feasting with the Asian cosmos, pursuing designs for all five senses/Sugiura Kohei. ROUNDTABLE: 4. Delivering Traditional Culture to Future Generations: Books, Letterforms and Design in East Asia/Sugiura Kohei, Lu Jing-ren and Ahn Sang-soo Discuss the Future of Book Culture. 5. Challenging Hangul, the letters of the cosmos, to create an integrated, universal design language A Cosmos Full of Characters: A Conversation with Ahn Sang-soo. 6. Fusing traditional Korean aesthetics with intellectual design concepts: Splicing the Genes of Culture into Book Design A Conversation with Chung Byoung-kyoo. 7. Resurrecting the technique and spirit of ancient China in contemporary book design"Heaven is Round, the Earth is Square": Bringing New Life to Old Proverbs A Conversation with Lu Jing-ren. 8. Presenting the vitality and energy of folk art in bold layouts, yet with a delicate sensibility The Fascination of Folk Culture: A Conversation with Huang Yung-sung. 9. Letters are voices, letters are waves.With his cosmic sensibility, he reveals the essence of the written word... Akara: The Art and Spirit of Indian Calligraphy A Conversation with R.K. Joshi. 10. Bringing together the design philosophies of ancient India and those of today...From the Formless to Form A Conversation with Kirti Trivedi. POSTSCRIPT: 11. Seeking a New Vocabulary of Design: Bridging the Traditional and the Contemporary/Sugiura Kohei.
Read more