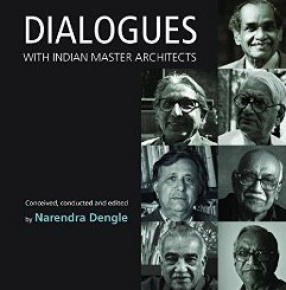 Preview now
Dialogues with Indian Master Architects
Synopsis
In this book, Seven of India's seniormost architects who have played a significant role in shaping independent India's architecture, urban design and planning-Achyut P. Kanvinde, Raj Rewal, Anant Raje, Hasmukh C. Patel, Balkrishna V. Doshi, Uttam C. Jain and Charles Correa speak to Narendra Dengle. These dialogues, conducted over seven years, for FEED (Forum for Exchange and Excellence in Design) Pune were attended and greatly appreciated by architectural students and teachers, which prompted the idea of making available in print.
As young architects in the early years of Independence, each of these masters faced the struggle to draw from Western philosophy, industrialization, modernism and urbanization--and at the same time preserve a consciousness of India's ancient traditions and come to terms with the local ethos in expressing themselves. Each in his own way reinterpreted varied influences to find relevant solutions in this country of diversity.
The discussions tackle social and contextual issues and urban design concerns from a personal vantage point, and reveal the motivating spirit behind the works of these master architects. Their insights will provide invaluable inspiration and guidance to young practitioners and students of architecture.
Contents: Preface. 1. Achyut P. Kanvinde. 2. Raj Rewal. 3. Anant Raje. 4. Hasmukh C. Patel. 5. Balkrishna V. Doshi. 6. Uttam C. Jain. 7. Charles Correa.
Read more