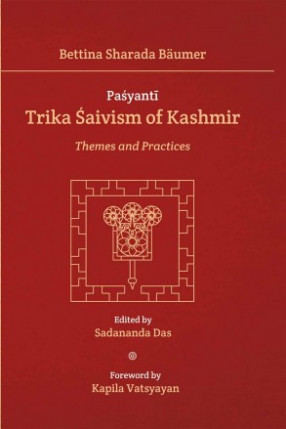 Preview now
Pasyanti Trika Saivism of Kashmir: Themes and Practices
Synopsis
The present volume contains 17 selected articles of Bettina Sharada Bäumer which are the outcome of her study and research in the field of non-dual Trika Śaivism of Kashmir over the last four decades. They provide insights into essential aspects and themes of the philosophy and spirituality of Trika Śaivism, as well as elements of the spiritual practice involved in this tradition. Her approach is based on the fundamental texts as well as on the living traditions.
The first section titled "Stotras – Hymns to the Absolute", contains four articles which focus on the study and translation of some of the important hymns of the non-dual Śaiva traditions of Kashmir. The articles include an introduction to the philosophy of Kashmir Śaivism through the benedictory or mangala verses; a translation and study of the mystical hymn "Sāmbapañcāśikā", in which Sun-worship is discussed in the light of the Śaiva philosophy of Consciousness; an article on the non-dual nature of praise and finally a translation and commentary on three important hymns of Abhinavagupta, together with two stotra fragments.
The second section, "Non-Dual Tradition of Śaivism of Kashmir" contains 13 significant articles presenting themes and practices of the tradition. The articles are based on fundamental Tantric texts such as Vijñāna Bhairava Tantra, Svacchanda Tantra and Netra Tantra. The author discusses some of the important concepts of Kashmir Śaivism, such as vāc, līlā, time and timelessness, harmony and disharmony, mudrā, the space of breath, śūnya and creative contemplation in the Vijñāna Bhairava Tantra, the approach of paramādvaita in the mystical hymns of Utpaladeva´s Śivastotrāvalī, the intensity of emotions and how it is a path to liberation, the concept of sarvaṃ sarvātmakam, i.e. "everything is related to everything else" or "all is in all". The last article in this section is dedicated to Swami Lakshman Joo, author's spiritual preceptor.
Paśyantī offers scholars and students, philosophers and seekers a spiritual voyage into the very heart of Indian spirituality. This volume will be useful not only to students and scholars of Indology but also to lay readers.
Read more