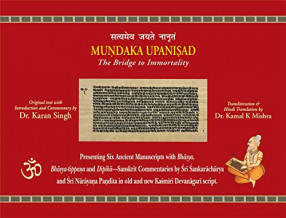 Preview now
Mundaka Upanisad: The Bridge to Immortality (Presenting Six Ancient Manuscripts with Bhasya, Bhasya-tippana and Dipika-Sanskrit Commentaries by Sri Sankaracharya and Sri Narayana Pandita in old and new Kasmiri Devanagari script)
Synopsis
This book was first published by Bhartiya Vidya Bhawan in 1987. However the present Edition is special because it contains the Hindi translation of Dr. Karan Singh's texts by Dr. Kamal Kishor Mishra who has also transliterated the Sanskrit text according to international standards. In addition, six ancient manuscripts chosen from the huge collection in the Sri Ranbir Sanskrit Research Institute, Sri Raghunath Mandir in Jammu have been added. These show that this important Upanisad has been recorded over many centuries, both in the old and new Kashmiri style of Devanagari scripts, which include the main text as well as Bhasya, Bhasya-tippanam and Dipika-commentaries by Adi Shankaracharya and Pandita Naraina.
When Dr. Karan Singh's ancestor Maharaja Gulab Singh Ji founded the J&K State in 1846 he also set up the Dharmarth Trust. His son Maharaja Ranbir Singh Ji not only constructed numerous temples, including the famous Sri Raghunath Mandir complex and the great Sri Ranbireshwar Shiva temple, but was also a great Patron of Sanskrit scholarship. He sent a team of pandits around the country who collected rare manuscripts, 8000 of which are now housed in the Research Institute. This publication is being brought out by Motilal Banarsidass Publishing House. In addition a three-volume catalogue of the entire collection of manuscripts in the Research Institute have been published. The first volume contains the earliest listing by the famous scholar Aurel Stein in 1894.
This edition of the Mundaka Upanishad will hopefully be welcomed by scholars of Sanskrit and Hindu philosophy around the world.
Read more
Books by the same authors