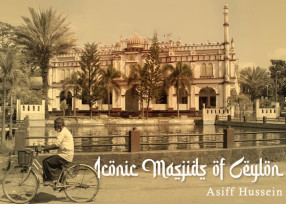 Preview now
Iconic Masjids of Ceylon (Sri Lanka)
Synopsis
Although Sri Lanka's Muslims form nearly ten percent of the population of Sri Lanka, a comprehensive work detailing their main places of worship and recording their history, evolution and architecture has been a long-felt need. This lacuna is now filled with a well-illustrated coffee table book 'Iconic Masjids of Ceylon' authored by Asiff Hussein and published by the Ceylon Baithulmal Fund.
This monumental, painstakingly craftedworkis the most noteworthy contribution to recording the rich heritage of mosques in Sri Lanka. With a beautifully designed hard bound cover andrichly illustrated fine art paper replete with a hundred photographs on top of its captivating stories, the book brings out the ambience of mosques in all theirsplendour and variety. The history of mosques in Sri Lanka, as the reader would find, is a most fascinating one interwoven with stories of miracles, perseverance and very importantly many instances of co-existence and co-operation with the other communities that call this beautiful island their home.
The book covers thirty one iconic mosques of Sri Lanka from what is supposed to be the oldest standing mosque in the island, MasjidulAbrar in Beruwala said to have been built in the year 920 but embellished over the years to the ultra-modern JamiahNaleemiah Mosque that has been compared to a flying saucer. The work also covers a number of little known mosques of great antiquity such as theBakinigahawela Mosque near Monaragala with its thick walls and traditional local architecture that goes back to several centuries as well as heritage mosques showing profound colonial influence such as the Meeran Mosque in Galle Fort.
Read more