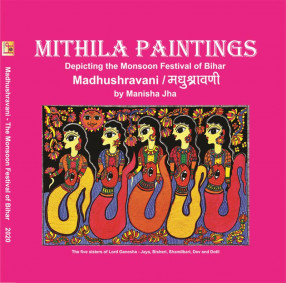 Preview now
Mithila Paintings: Depicting the Monsoon Festival of Bihar
Synopsis
Madhushravani is a monsoon festival of new brides, laughter, snake goddesses, and rituals that fuse ecology and tradition. The 13 day festival speaks of co-existence and instills love for Nature.

This book has fourteen stories related to Lord Shiva and his family and stories of goddess Manasa-the snake goddess, who is worshiped during the monsoon festival in Bihar known as Madhushravani.

This book has been documented in fourteen years by the author, this book has hundred paintings done by hundred women artists from different villages of Bihar. For the first time this book establishes direct connection between man-nature and culture in Mithila painting and also connection of oral narratives with the painting tradition. This documentation will increase the reach understanding and awareness about holistic tradition of Mithila Paintings through Madhushravani festival.
58 colored paintings, 29 monochrome paintings, 75 color photographs, Artist Biography of Twenty One Mithila Artists including the Six Padmashrees of Mithila paintings tradition.

A treat to eyes with very rare paintings
Read more