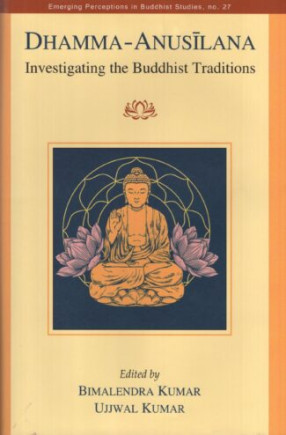 Preview now
Dhamma-Anusilana: Investigating the Buddhist Traditions
Synopsis
Contents: Preface. Part I: Meditation. 1. Can one become an Arahat without practising meditation? A study of the wisdom-liberated (Panna-Vimutta) in early Buddhism/G A Somaratne. 2. Complementarity of method and wisdom/Mahesh A. Deokar. 3. The problematic mind, meditation and deep structure of consciousness: a Buddhist perspective/Hari Shankar Prasad. 4. The practice of meditation in a Nutshell/Tashi Tsering. Part II: Personality and Positions. 5. Brief explanation of Buddhist concept of personality/I. Indasara. 6. Buddhism: Science of mind/Wangchuk Dorjee Negi. 7. The conceptual analysis of Pasa (Bondage) in vedic and Buddhist thoughts/Dipen Barua. 8. Sailing against the current: the Buddha, Buddhism and methodology/Hari Shankar Prasad. 9. Subtle-increasers (Anusaya), the root of existence: an Abhidharmakosakarika view/Sanjib K. Das. Part III: Dharmakirti and Persons. 10. Dharmakirti on determinate perception/Sachchidanand Mishra. 11. Contribution of Sankrtyayana to the study of Pramanavarttika/Madhumita Chattopadhyay. 12. Induced abortion as Panatipata: revisiting, Buddhist position on the right to life of an unborn/Abhinav Anand and Ajit Kumar Behura. 13. Analysis, Wisdom and healthy life: an investigation into the value of analysis in Anathapindikovadasutta/Wadinagala Pannaloka. Part IV: Principles, History and Grammar. 14. Buddhism and the principles of good governance/Dilip Kumar Mohanta. 15. The Buddha's reluctance to visit the Gaya Dhammakhetta and advent of Buddhism in this region/K T S Sarao. 16. Elephants in the Maurya Age Sacred symbolism and imperial tradition/Anand Singh. 17. The sword and the sheath: Three notes on Kaccayana 1: Attho Akkharasannato/A. Ruiz-Falques. Subject Index. Name Index. Title Index.
There have been serious attempts to understand the Buddha and his teachings since the inception of Buddhism some 2,600 years ago. All through the history of Buddhism, scholars were constantly striving to understand the fundamental nature of what the Buddha wanted us to realize. This book is an anthology of seventeen cerebral articles from well-known Buddhist scholars associated with major universities across the globe. In four parts – Meditation; Personality and Position; Dharmakirti and Persons; and Principles, History and Grammar – it highlights some pertinent topics associated with Buddhism and its legacy.
Part I discusses the diverse dimensions of meditation, dedicating itself to the kiriya (action) aspects of Buddhism. Part II is an attempt to delineate and study the major branches of Buddhism. Part III deliberates on the contributions of Dharmakirti and Rahula Sankrtyayana to the Buddhist philosophy along with the concept manusa-panatipata and how the revelation of reality of human experience by analysis helps a person to achieve wisdom in the light of Majjhima Nikaya Anathapindikovadasutta. Part IV has papers on different philosophical and applied concepts of Buddhism.
This volume thus should benefit one in understanding many an aspect of Buddhism vis-a-vis its enormous corpus of literature and teachings. It should highly benefit the students of Buddhism and for those who are keen to fathom deep into the myriad topics of Buddhist philosophy and teachings.
Read more
Books by the same authors