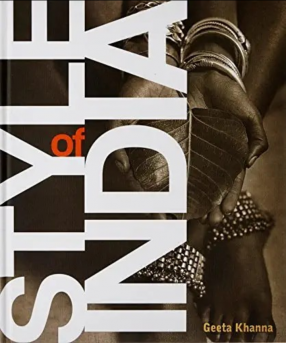 Preview now
Style of India
Synopsis
A lavish work that will thrill and delight, Style of India is a kaleidoscopic view of the evolution of style in India – an ambitious volume that will forever be a collectible.
This spectacular book traverses an incredible breadth of history, offering a panoramic view of the defining moments – the cultural factors, historical compulsions and mystical concepts – that have intersected over time and propelled the development of style in the country over millennia. Bringing together over 300 stunning visuals from archival material and gorgeous recreations of drapes and accessories, accompanied by perceptive essays, this unique book weaves a compelling chronicle of the history of style in India.
An unforgettable pictorial journey, Style of India is a full-colour deluxe collectible edition that will be treasured by style connoisseurs for years to come.
The book in sections:
THE HISTORY OF STYLE OF INDIA
To understand the true nature and definition of style in India, one must turn back to the defining moments that have propelled the evolution of style over millennia. Spirituality, modernization and extreme diversity exist simultaneously in India. Contemporary Indian style and fashion are thus a result of the assimilation and influence of various cultural factors, historical compulsions and mystical concepts that have intersected over time. Fashion, too, follows cycles like history, and with each backward glance it emerges fiercely renewed. Weaving through this chronological chronicling from Harappa to the era of Hindi cinema are short sections that throw a spotlight on unique aspects of Indian style – cultural factors that have intersected with history to bring in even more variety and colour.
THE EMERGENCE OF THE INDIAN FASHION DESIGNER
The Indian fashion industry is today seen as a mature, world class industry that is growing and evolving each day. The story of its inception and development is a fascinating one. This section picks up the historical trail from where the previous section left off – the stories of people who worked tirelessly to rescue, preserve and nurture traditional Indian handlooms, textiles, embroidery, art and craft from decline after India's independence. It features the fashion designers who emerged during the 70s, 80s and 90s in India, who gave Indian heritage a presence on the world stage, pioneered the way in which such traditions were incorporated into a modern narrative and paved the way for global recognition of the Indian fashion industry.
NARRATION ART AND COSTUME DESIGN IN INDIA
The Vedas, passed on orally through shruti (speech) and smriti (memory) for centuries before they were documented, point to the critical role of narration art as a window into India's past. The widest, most impactful narration art, however, has been Indian cinema. From the first silent film made in Bombay in 1913 – Raja Harishchandraâ to the Rs 100-crore blockbusters of today, films have captured the imagination of generations of audiences across the country. This section profiles the costume designers behind some of the iconic looks through the decades of cinema, and demonstrates that designs created for characters in cinema have set style trends long before the advent of the Indian fashion industry as we know it today.
Read more