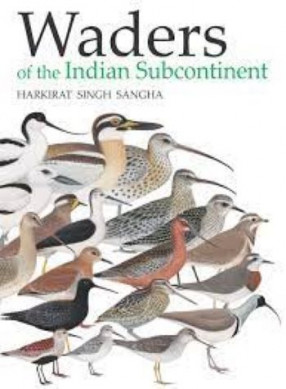 Preview now
Waders of the Indian Subcontinent
Synopsis
This is the most complete and up-to-date 'fact book' to the waders of the Indian subcontinent with comprehensive text about identification, status and distribution, habitat, behaviour and breeding biology. It contains more than 540 original paintings with concise captions opposite each colour plate. The book is furthermore illustrated with over 450 carefully selected colour photographs, and clear colour distribution map for every species, based on verified records. The introduction includes information on wader habitats, threats and migration.
Waders of the Indian Subcontinent is a reference book to the waders or shorebirds of India, Pakistan, Nepal, Bhutan, Bangladesh, Sri Lanka and Maldives.
This book is for researchers, birders and conservationists alike.
The book covers all 83 wader species recorded in India and neighbouring countries, including details of all residents, migrants and known vagrants.
Over 450 stunning colour photographs and 22 colour plates depict every species and comprehensively cover all the distinct plumages and subspecies likely to be encountered.
Concise species accounts describe key identification features, status, range, habitat and voice with fully updated distribution maps for each species.
Read more