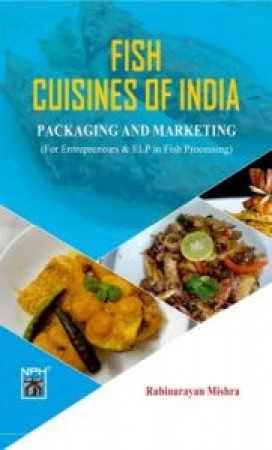 Preview now
Fish Cuisines of India
Synopsis
Fisheries and aquaculture remain an important source of food, nutrition, employment and income for millions, especially for the rural population. In fact, the sector provides livelihood to about 28 million fishers and fish farmers at the primary level and twice the number along the value chain. Fish being an affordable and rich source of animal protein, is one of the healthiest options to mitigate hunger and nutrient deficiency. The Fisheries sector of India has shown impressive growth with an average annual growth rate of 10.88% during the year 2014-15 to 2018-19 and stood at an all-time high of 137.58 lakh metric tons during the year 2018-19. The export of marine products stood at 13.93 lakh metric tons and valued at Rs.46,589 crores (USD 6.73 billion) during the year 2018-19 with an impressive average annual growth rate of about 10% in recent years.
Fish are highly perishable. Also fishes are perceived as a healthy food containing high levels of digestible protein. Increasing awareness of fish as a food associated with health and wellness is expected to create a positive impact on its consumption in the coming years. Today, Indian fisheries is considered as a sunrise sector with high potential for rural development, food and nutritional security as well as export earnings that can be treated as an enterprise in the form of a rural entrepreneur-led hybrid model for small scale. Being a potential foreign exchange earner, this sector stimulates growth of subsidiary industries assuring availability of affordable nutritious food for socio-economically backward small farm holders. Hence, the entrepreneurial opportunities involved in fisheries sector have to be rightfully explored and utilized through entrepreneurial motivation, technology empowerment, skill up-gradation through different management techniques and sustenance mechanism.
Realizing the importance of entrepreneurship issues in fisheries, it is felt to write the present book "Fish cuisines of India – Packaging and Marketing (For Entrepreneurs & ELP in Fish Processing)" which provides knowledge and skill on important fish cuisines of different regions of India such as eastern India, western India, southern India, northern India and north-east India, their packaging and marketing. This book is prepared to meet the requirements of the undergraduate students as per the syllabus of 5th Deans' Recommendation of ICAR under the course of Experiential Learning Programme (ELP) which is mainly conducted in one full semester and followed throughout all the Fisheries colleges of India. The book covers eight Chapters with a total of 103 fish recipes. The chapters are 1. Introduction, 2. Fish cuisines of Eastern India, 3. Fish cuisines of Western India, 4. Fish cuisines of Northern India, 5. Fish cuisines of Southern India, 6. Fish cuisines of North-East India, 7. Value added fish products and 8. Packaging and Marketing. This book will definitely be a road map for the students of fisheries, industrialists and entrepreneurs, researchers and policy makers to take up any new venture in the field of fish-entrepreneurship.
Read more