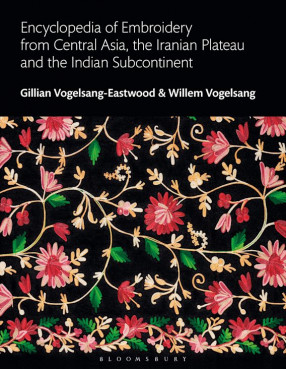 Preview now
Encyclopedia of Embroidery from Central Asia, the Iranian Plateau and the Indian Subcontinent
Synopsis
This is the first reference work to describe the history of embroidery throughout Central Asia, the Iranian Plateau and the Indian Subcontinent from the medieval period through to the present. It offers an authoritative guide to all the major embroidery traditions of the region and a detailed examination of the material, technical, artistic and design dimensions of the subject, including its use by today's fashion designers.
For millennia, the peoples of Central Asian, the Iranian Plateau and the Indian Subcontinent have migrated and traded along the multiple strands of the Silk Road, both north–south and east–west. This history of contact has found rich expression within the arts and crafts of the region and particularly in the heritage of embroidery which has sat at the heart of the social and cultural lives of these diverse communities. Embroidery has been produced to decorate individuals, their families, their clients, their homes and public spaces and has reflected economic and political changes over time as well as social, religious and artistic contexts.
Generously illustrated with 500 images (over 450 in colour) of clothes, accessories, and examples of decorated soft furnishings such as cushions, bed linen, curtains, floor coverings and wall hangings, the Encyclopedia is an essential resource for students and scholars of the subject.
This volume is the second in the Bloomsbury World Encyclopedia of Embroidery series. The first volume, on embroidery from the Arab World, won the 2017 Dartmouth Medal, awarded by the American Library Association.
Table of Contents
Contributors
Preface
Acknowledgements
Section One: Background Information
1. Introduction
2. Fibres, Threads and Ground Materials
3. Embroidery Tools and Equipment
4. Hand and Machine Embroidery Techniques
5. Designs and Designers
Section Two: Historical Embroideries
6. Introduction: Evidence for early Central Asian and Iranian Plateau Embroidery
7. Safavid Period Embroidery
8. Ancient and Historical References to Indian Subcontinent Embroidery
9. Snapshot: Medieval Nepalese Embroidery
10. The Mughal Court and Embroidery
11. Snapshot: Indian Quilts for European Markets
Section Three: Embroidery from Central Asia
12. Introduction
13. Snapshot: Embroidered Caps from Central Asia and Afghanistan
14. Embroidery from Kazakhstan
15. Embroidery from Kyrgyzstan
16. Embroidery from Uzbekistan
17. Suzanis
18. Embroidery from Turkmenistan
19. Embroidery from Tajikistan
Section Four: Embroidery from the Iranian Plateau
20. Introduction
21. Snapshot: Embroidered Zurkhaneh Breeches
22. Qajar and Later Embroidery
23. Embroidery on Modern Iranian Regional Clothing
24. Embroidery from Afghanistan
25. Snapshot: Afghan Coats and Western Fashion
Section Five: Embroidery from the Indian Subcontinent
26. Introduction
27. Embroidery from Baluchistan
28. Embroidery from Pakistan
29. Phulkari Embroidery
30. Introduction to Indian Embroidery
31. Woven and Embroidered Shawls from Kashmir
32. Embroidery from Northern India
33. Embroidery from Western and Southern India
34. Indian Metal thread embroidery (Zardozi)
35. Snapshot: Three Examples of Indian Beadwork
36. Snapshot: Indian Fashion Designers and Hand Embroidery
37. Snapshot: The Roles of NGOs and Other Groups within the Field of Hand Embroidery in India
38. Embroidery from Nepal
39. Embroidery from Bhutan
40. Embroidery from Bangladesh
41. Snapshot: Embroidery and Lace from Sri Lanka
42. Snapshot: 'Embroidery' from the Maldives
Section Six: Appendices
Appendix 1a: Drawings of the Embroidery Stitches
Appendix 1b: A-Z List of Embroidery Stitches
Appendix 2: International Collections with Relevant Embroideries
Bibliography
Index
Read more