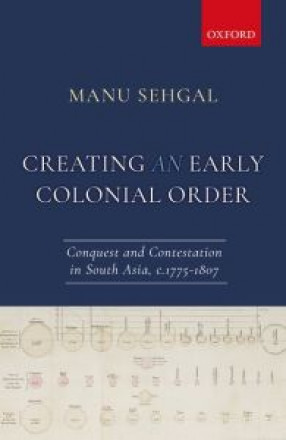 Preview now
Creating an Early Colonial Order: Conquest and Contestation in South Asia, c.1775-1807
Synopsis
Contents: Introduction. 1. Organizing Warfare and Diplomacy in Western India, 1778-83. 2. Stranger to relate yet wonderfully true: Civil-Military relations in the Madras Presidency, c. 1780-89. 3. Sovereignty, Territoriality, and Law: Problems of Peace at Bombay and Madras, c.1782-86. 4. Political Economy of Conquest: Public Finance and Warfare Colonial Warfare. 5. The Company State at War: Restructuring the Early Colonial Order, c.1798-1805. 6. Creating a 'Pure and Simple Despotism': British Politics and Colonial Warfare, 1803-7. Epilogue: Lineages of Illiberal Rule in South Asia. Bibliography. Index.
By the end of the eighteenth century, war-making and the East India Company's violent conquest of South Asia created an 'early colonial order'. This distinctive early colonial order comprised of a political economy of conquest marked by repeated financial crises, a new regime of laws, ideological innovations justifying expensive warfare, changing conceptions of sovereignty, and the privileging of military over civilian power. This early colonial order was followed by an authoritarian, militarily dominant British Raj and continues to profoundly influence postcolonial South Asian polities.
By drawing on a diverse range of archival documents and later studies, Manu Sehgal makes an important intervention in historiographical debates about eighteenth-century South Asian history and the centrality of violence to colonial rule. This work is the first full-length study of how coercive structures of authority trace their origins to this early, missing chapter in the history of modern South Asia.
Read more