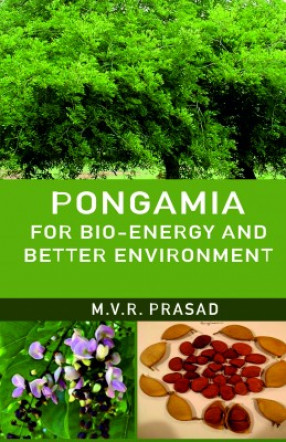 Preview now
Pongamia For Bioenergy And Better Environment
Synopsis
The current socio-economic situation of India presents complex problems of environmental pollution and decline of farm income coupled with rural poverty.
There are no simple solutions to the above issues; but a careful analysis of the available options does suggest some silver-linings amidst the rapidly darkening horizons. One such ameliorating options would be gradual restoration of soil fertility and enhancement of agri-ecosystems by including productive tree plantations in rural scenario.
Pongamia pinnata, popularly known in India as Karanj has been found to be one of the most sustainable trees with regard to its soil enhancement and carbon sequestration properties apart from its stability in seed and oil yield. Pongamia pinnata is also credited with several preventive and curative properties as established by Ayurvedic medicine. It may be recalled that in the decades of nineteen seventies a few villages reaped sustainable incomes in the face of acute and chronic droughts that plagued the nation, solely due to the availability of some old Pongamia / karanj tree stands around those zones. Kranj oil has exhibited promise as a source of green energy.
Nevertheless, the research on improvement of Karanj and its management as a productive plantation is nebulous. It is heartening that the Monograph on Karanj by Dr. M.V.R. Prasad fills this void. Dr. Prasad has been pursuing the work on oil bearing perennial trees of which Pongamaia pinnata has been studied in greater detail during the decades starting from nineteen eighties to date. The Monograph describes clearly as to how Pongamia pinnata could be harnessed to exploit the proven and potential benefits cited above, in addition to giving valuable information on its genetic improvement and plantation management.
This Monograph on Pongomia will serve as a valuable reference book for the Agricultural Scientists, Extension workers, students as well as farmers.
Read more