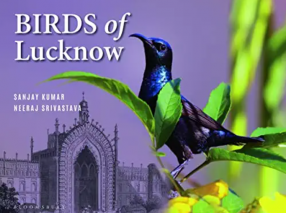 Preview now
Birds of Lucknow
Synopsis
Stunningly illustrated with over 350 colour and black and white images, which depict the birds in flight, their plumage and more, this book based on the authors' groundbreaking work of compiling and presenting the current status of avifauna of the region.
Packed with historical, anecdotal and essential information on their calls, physical description, habitat and where to see the birds, this book will enable accurate field identification and will be an indispensable guide for all birdwatchers, ornithologists, wildlife photographers and enthusiasts.
Highlights of the book include:
· Over 360 bird species
· Major parks and gardens of Lucknow where certain species of birds can be seen
· A chapter devoted to the Natural History section of the Lucknow State museum, which boasts of the 4th largest collection of carefully preserved bird specimens
· Latin, English and Hindi names of the various birds
· Over 300 pictures of birds in their habitats
Sanjay Kumar and Neeraj Srivastava provide an engaging introduction to the diversity of the world of birds in Lucknow.
Birds are one of the most important indicators of the health of the ecosystem
Birds of Lucknow offers a comprehensive view of over 360 species and distinct subspecies of birds found in and around Lucknow district. This rich birdlife is sustained largely due to the many gardens and orchards found in the city, the Gomti river, and the 5,000-acre Kulrail Reserve Forest.
Read more
Books by the same authors