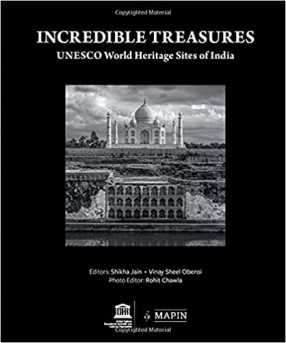 Preview now
Incredible Treasures: UNESCO World Heritage Sites of India
Synopsis
Contents: Foreword/Eric Falt. 1. Introduction/Shikha Jain and Vinay Sheel Oberoi. 2. Cultural Sites. 3. Natural Sites. 4. Mixed Sites and Cultural Landscapes.
The World Heritage Sites listed by The United Nations Educational, Scientific and Cultural Organization (UNESCO) are places on Earth that are of Outstanding Universal Value to humanity, to be protected for future generations to appreciate and enjoy. UNESCO has inscribed 38 such sites in India, all of which are presented in this volume, together with beautiful illustrations and commentary by heritage experts and conservationists.
The cultural sites in India are a rich repository of the country's glorious past—from the earliest periods of rock art, Buddhist caves and Hindu temples, Sultanate and Mughal forts, palaces, tombs and memorials, medieval Hindu and Islamic cities, step-wells and observatories to Portuguese churches, Victorian and Art Deco ensembles to 20th-century industrial and modern heritage sites. The natural and mixed sites include national parks of exceptional natural beauty, flora and fauna and, sites of long interaction between people and the landscape.
Read more
Books by the same authors