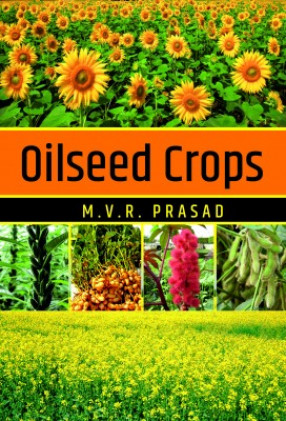 Preview now
Oilseed Crops
Synopsis
Oilseed crops are a heterogeneous group of plants without common morphological and genetic features except production of seed oil. Nevertheless, the importance of the seed oil or vegetable fat, has resulted in increased scientific interest in improving the yield and quality of the produce. The Oilseeds sector has been one of the most dynamic components of world agriculture; in the past three decades growing at 4.1% per annum surpassing the growth of agriculture and livestock products.
The individual crops forming the conglomerate of Oilseed crops have to be treated differently as well as together for their improvement and production, since they form unique group in terms of research and development, necessitating the development of strategies for their judicious exploitation for a sound farm economy.


This book "Oilseed Crops" aims to provide detailed information on the oilseed crops and at the same time elucidating the intricacies faced in improvement and management. Spread over thirteen Chapters, the book covers the oilseed crops, namely, Groundnut, Rapeseed-mustard, Soybean, Sesame, Sunflower, Safflower, Niger, Linseed, Castor and Oil-bearing Trees. Each Chapter includes information on the 'Background of the Plant,' 'Ecology,' 'Cytogenetics,' 'Genetic Resources and Breeding,' 'Biotechnology,' 'Important Characteristics,' 'Diseases and Pests of the Crop,' 'Production' and 'Products' from the crop. 'Designer Oilseed Crops' is a new concept for the development of novel products of vegetable fats using biotechnology, gene editing and genetic transformation. The book will be useful to researchers, students, agricultural extensionists and all those taking up study of Oilseed Crops.
Read more