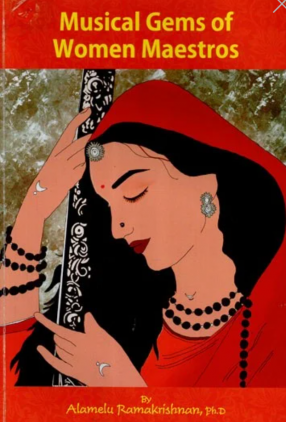 Preview now
Musical Gems Of Women Maestros
Synopsis
This volume on "Women Composers of Carnatic Music" is extremely valuable, in that it gives a lot of material about the composers, their music and how they were inspired to contribute so much to the music fraternity. It is amazing to know that so many women have spent their lives in the cause of music, with the zeal of a martinet.

A great service has been done by the author, Dr. Alamelu Ramakrishnan, in discharging the debt of the music world to these glorious composers by bringing to light their inspired compositions, hitherto either unknown or little known. This book is at once a grateful acknowledgement of their contributions and an addition to the information available in the field.
Whether it is a credit or discredit, the hallmark of writers and composers in India, in the past, has been their anonymity. For instance, very little is known about Valmiki, Vyasa, Kalidasa and a host of others.
Preface

This bouquet of articles on the women composers whose compositions I presented in a series of six lecture demonstrations, in 2015-16, is a documentation of the work done by me, after researching, learning and presenting the life and works of around 40 women composers spanning a few centuries, right from the period of the nayanmars and azwars in Tamil Nadu (in the 6th and 7th century) to contemporary composers who have kept the flag of music flying high. As a performing musician and musicologist, I found the work at once challenging, exciting and interesting.
The Ministry of Culture awarded me a performance grant to enable me to present 6 episodes on the contribution of "women composers in Carnatic music" in the year 2015-16.
The credit for choosing this topic must go to my friend, mentor and guide, the late Dr. S.A.K. Durga, a musician and musicologist of international renown. She suggested that I should work on this topic and bring to light many women composers, whose compositions are not often heard on the concert platform, since they were not born to fade unsung.
In the structuring of the program, Smt. Nandini Ramani, a renowned dancer and dance critic helped me a lot and guided me.
I started from the period of Karaikkal Ammaiyar and Andal (saints in the Saivite and Vaishnavite traditions of the 7th and 8th centuries) and tried to present the contributions of women composers in a fairly chronological order (not adhering to it very strictly), right up to the present day. I may mention here that fortunately, a number of very talented and inspired women composers are living in our midst today.
I covered the four southern states of Kerala, Karnataka, Andhra Pradesh and Tamil Nadu and introduced as many composers as I could, in these six presentations.
Read more