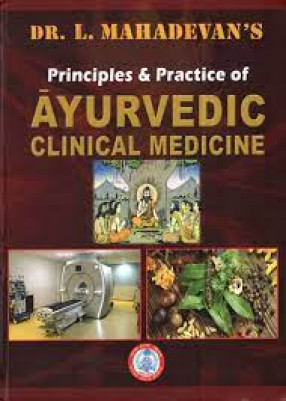 Preview now
Bestseller
Principles & Practice Of Ayurvedic Clinical Medicine
Synopsis
There was no pressure to write a text book of medicine. It was a causal outburst as a result of demand from my students. Today I remember the words of my teacher Dr. B. Vaidyanathan. In 1997 he told me not to teach anybody until I have treated 5000 cases independently. He told me to practice rigorously for 5 years and then start teaching. I started teaching from 2003. During my early years of clinical carrier, I got a student from Coimbatore Ayurveda College. I got ample time and I was updating my knowledge and sharing that with her at that period. There was a continuous urge to learn, update the knowledge in modern medicine and to refer internet about new information. At the same time I was very consistent in reading Aştanga samgraha regularly. During my association with PG students, I developed interest to read later texts like Vangasena, Siddha yogaratnāvali, Bhaisajya ratnāvali etc. I am reading these books regularly for the past ten years and using the drugs mentioned in the texts. This interest was created in me by Dr. Manoj Sankaranarayanan, who is a Scholar in this field. During my PG studies, my knowledge was limited to Caraka Samhita and Astanga Hrdayam and Sangraham. In Trivandrum Ayurveda College there was no trend to read the latter texts. I found very good yogas in later texts which are handy and useful.

Clinically I am influenced directly by Dr. B. Vaidyanathan, Dr. M. R. Vasudevan Nampoothiri, Dr.P.S. Sreekumar and Dr. G. Shyamakrishnan. indirectly I was highly inspired by Late. Dr. P. Rajagopalan and Late. Dr. Sankaran Sir. The principle oriented treatments of Dr. Sankaran has a great impact in my thinking, for which I am much thankful to him. During the last ten years of practice, lakhs of patients were successfully treated or managed with the knowledge base we have developed in our center.

I have personally trained more than 300 students and taught them the guna based tridosha thinking and indirectly taught more than 2000 students all over India. Students from Tamilnadu, Kerala, Karnataka, Maharashtra, Nagaland, Himachal Pradesh and other places are regularly visiting and staying with me in our gurukulam and observing what I am doing. I usually teach them with the patients whom I see.

Preface II
There are not much valuable literature available in clinical medical practice in Ayurveda. Those available, are written by physicians who know theory and not having good clinical practice. To my dismay, I find that communication and patient interaction is not still taught in Ayurvedic colleges. Even now, there is no organized help in the area of ayurvedic education and training. There is a deficiency in Ayurvedic curriculum and in my view this is the cause for clinical Ayurvedic stress. There is a definite deficiency, which the population suffers in seeking the medical help. This is also a cause for poor clinical image. There are more than 300 Ayurvedic colleges in the country today. Every year more than thousand Ayurvedic graduates add to the already existing Ayurvedic community. What a student expects from the hospital is not taught nowadays.

Clinical neurology is an art. I can tell, clinical neurology is equal to basic anatomy plus Mula siddanta plus Yukti. It is like mathematics. Reading a sloka of Pakshagata may not help you to treat it. We know that you have to do sneha, sveda, sodhana, mrdu sneha yukta virecana in pakshagata. Everybody can chant this sloka. But in management so many things we have to learn. How can you learn? You should be able to see cases (at least a few) acute and chronic cases, and you should sit with a master, who can teach all these things. Even in brain there is vata area, pitta area and kapha area. Frontal cortex is a vata area. Occipital cortex is a pitta area. Temporoparietal is the area of kapha. This is not textual, but experience. You cannot randomly do the same treatment for everybody. You cannot start with udvartanam and finish with lasuna rasayanam in all the cases. This work is an anastamoses between professionals and students. You have to conduct more research in some cases as I have done a few. In some areas we have done a lot. It is very difficult to use modern research methodology in Ayurvedic practice, because we are going on changing the medicines based on avasta. I accept that there are a few lapses which produce sleepless nights in clinical practice also. What I have not seen in my clinical carieer during curriculum I will miss. I have to work a lot to correct this mistake and grow clinically. Many people think, using knee hammer is modern medicine. I tried my level best to convey that knee hammer is an instrument. They don't believe it. Even in the reflexes you are able to see vata, pitta, kapha. To see vata, pitta, kapha in natural and in ill health is a vision. It is a beautiful clinical vision

Preface III
I am really very happy to bring out the handbook of medicines 3rd volume of clinical practice series. When we started writing we never expected that the demand from student community and practitioners will be so overwhelming. We used to receive calls everyday asking for copies from all over India, even some of the parts I don't know where it is?

I realized that there is a big gap in clinical diagnosis and management especially in teaching which I am fulfilling.

It is a great pleasure to write the 3rd volume of my Clinical Practice series. When I started writing I didn't expect such a response from my fellow colleagues, students, doctors, lecturers, and colleges in India and abroad. I realised at one point that I am a teacher and it is my duty to teach and share what I know to others without expecting anything. Many students used to come and stay with me in Derisanamcope or in Chennai. Many from Rajasthan, Gujarat and Kashmir often tells that they were unable to stay with me and they call all the time when difficult cases visits them. So, I have promised them long back that whatever I do, I will give it in the form of a book. So it is the students who motivate me to write further and further. In spite of all difficulties, heavy practice, busy schedule and travel I could do this because I am interested in the subject matter and because of the team work. Many students have contributed for this work. Dr. Vaishali H. Sugavanam my clinical assistant who has done honest work in taking notes from my classes and observing me in my clinic has helped me in writing this book. I asked her to be my co author for this book and I bless her for all prosperity. I wish the doctors to read this book and I hope this will be a beneficial guide for their practices. This is no way a substitute to our traditional texts. This is for an additional reading which will boost their medical practice. My pranams to all of you.
Read more