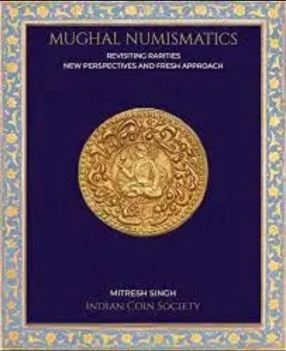 Preview now
Bestseller
Mughal Numismatics Revisiting Rarities New Perspectives and Fresh Approach
Synopsis
The work of Mitresh Singh encompasses all aspects of the Mughal Numismatics, such as, coins of Akbar the Great showing victory over Asirgadh and an image of a falcon, that of Rama Sita revered by the emperor, and his Mehrabi coins. He also talks of the coinage of Jahangir where important issues such as Portrait mohurs and Zodiacal mohurs have been addressed very well.
The Editors are pleased to acknowledge the tremendous efforts undertaken by Mitresh Singh in writing this book. The readers would find all Mughal rarities listed with coin images in one place hence the Editors believe this book would become a go-to ready reckoner of sorts for a collector, researcher, dealer. cataloguer, auctioneer, curator or anyone interested in Mughal numismatics.
The book provides a general introduction to establish background context. It thereafter touches upon specific topics viz nisars, gigantic coins, mehrabi, Ram-Siya coins, zodiac and portrait coins, etc. The research and citation of minute references from authentic Mughal sources viz Akbarnama, Ain-i-Akbari, Tuzuk-i-Jahangiri etc is so meticulous that it reminds us of the earlier researches done by Prof. S. H. Hodivala and Dr. R. B. Whitehead.
Mitresh has done commendable research work on the Portrait coins. The fact that the book on which King places his hand is indeed a balustrade covered with carpet has been brought to light by him in print for the first time, but thanks also need to be given to Shailendra Bhandare who has been saying this many times in private discussions.
Enormous material has been brought to light by Mitresh as regards the Jizia taxes. He has also found that there was a Nur Afshan garden which the royal family would use. This name is previously associated only with scattering coins.
The readers would find the book interesting, lucid, and mind-boggling considering the wealth of the empire, varieties of coins, and its history side by side.
Read more