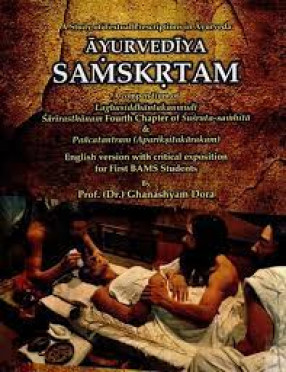 Preview now
Ayurvediya Samskrtam: A Study of Textual Prescriptions in Ayurveda
Synopsis
Such an English edition was highly essential for the newly entrants to Ayurvedic course as this compendium has been prescribed by the Central Council of Indian Medicine (CCIM),NewDelhi as a text in Sanskrit (Ayurvedarsa-granthadhyayana-kramah) in the First year BAMS course. This subject is exclusively meant for Science based students to acquint with Sanskrit so as to facilitate them in further studies in Sanskrit based Atyurvedic texts.
Prof. Dora, at present working as Principal in my afore said College, has completely expressed the intricacies of Sanskrit based Ayurvedic terms into English. He has already published individually the texts Laghusiddhanta-kaumudi and Vaidyakiys Subhasita Sahityam earlier. The present text is anthology of Laghusiddhantakaumudi Sarirasthanam Fourth chapter of Susrutasamhita and Pancatantram (Apariksitakarakam).
Translating Sanskrit into English or other languages is a difficult imposition. Many Universities adopted English as the teaching medium of Ayurveda, thus Prof. Dora made an effort to elucidate the text into comprehensible English language by elaborating the difficult colloquies of Sanskrit terms.
Read more