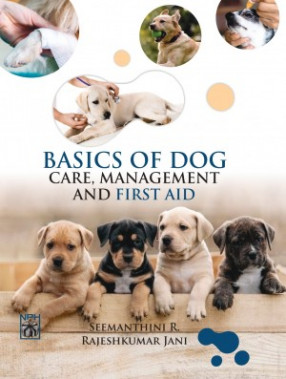 Preview now
Basics of Dog Care, Management and First Aid
Synopsis
A book on 'Basics of Dog Care, Management and First Aid' has a noble aim to provide comprehensive guidance to the dog lovers, students of veterinary science, practicing veterinarian, academicians and those who wants to know about a lovely family member and companion in form of dog. It provides a basic preliminary information about dog, dog breeds, their scientific breeding, regular care, food, training, health care, deworming, vaccination, emergency management and first aids and technical approaches for major disorders to deal with. Primary care and management before consulting the veterinarians are also narrated in some conditions which could save the life of ailing dogs, so that owner can report the correct situations and brief the observed symptoms to their veterinarian which can help them quickly to rule out the problems and understand the need of an hour. Ultimately, author's intension to provide information through the book is to provide basic knowledge and understanding of their pet at different stages of life to the dog owner. Better care and management more effectively not only help them but to tackle the undue situations and emergencies to save their dog's life. Similarly, on other side, it helps the veterinarian to judge the situation interacting with owner to plan clinical care and management in right direction.
HIGHLIGHTS OF BOOK
The major areas covered in this book are
Preference of pet and selection of dog as a family member
Selection of suitable dog type for family
Most preferred family dog's information
Dog breeding and top family dog breeds
Information on Indian dog breeds and their ancestors
List, pictures, and features of most popular breeds of dogs
Mating and selective breeding
Basic requirement of pup care, and management of new baby
Most popular names of baby boy and baby girl pets
Dog food, diet preference and nutritional requirement of food during different growth phase
Dietary care and management in health and in sickness
Criteria to identify health and illness in dogs
Restraint, major commands, training steps for pup as an obedient family member
Care, feeding, breeding, deworming and vaccination of pet to adult dogs
Vaccination and it's protocol
Care and Management of geriatric dog
First aid approaches in emergencies and during different systemic disorders
Basic first – aid techniques, such as cleaning and management of injuries, wound, emergency approaches, performing CPR step by step
List of emergency kit, homemade and other medication information
Approaches for administration of medicines
Most common problems, their major symptoms, and approaches to overcome it
System wise major disorders and their management.
Major ecto-endo parasites and their control measures
Preparedness during emergencies and critical care suggestions
List of homeopathic remedies
Understanding body languages of dog
Manners required at pet clinics
Normal physiological range of body temperature, respiration, and heart rates
Major communicable diseases of dogs.
List of prescribed laboratory tests for pet and their significance
Coloured pictures of dog breeds, grooming, dog feeders, nail care, restraints, normal anatomical features, disorders of eye, ears and teeth.
Read more
Books by the same authors