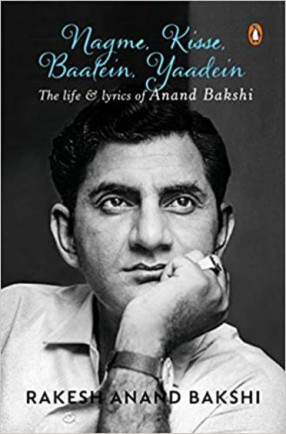 Preview now
Nagme, Kisse, Baatein, Yaadein: The Life and Lyrics of Anand Bakshi
Synopsis
An intimate peek into the life of soldier-turned lyricist Anand Bakshi, this book takes us on an eventful journey: from his formative years in Rawalpindi in undivided Punjab, to his stint with the Royal Indian Navy at age fourteen and then as a fauji three years later in post-Partition India, to his move to Bombay, where he began his career as a lyricist for the film Bhala Admi, in 1956.

Along the way, Bakshi lost his mother, his place of birth, his home and wealth, but his zeal to stand up and walk after every stumble and his desire to become a lyricist never abated. He eventually rose to become a revered and sought-after lyricist in Hindi cinema, writing nearly 3300 songs for around 630 films over a span of five decades. His timeless lyrics for films such as Aradhana, Bobby, Sholay, Chandni, Dilwale Dulhania Le Jayenge, Taal, Mohabbatein and Yaadein earned him many accolades and forty Filmfare Awards nominations.

Written by his son Rakesh Anand Bakshi, Nagme, Kisse, Baatein, Yaadein is an inspiring story of faith, dreams, success and, above all, human values.
Read more