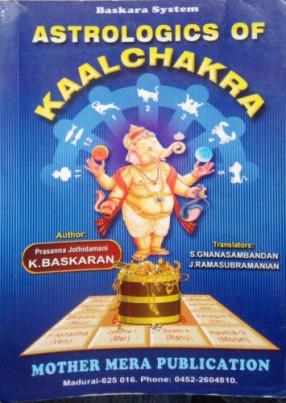 Preview now
Astrologics of Kaal Chakra
Synopsis
Man has been inquisitive about nature right since day one of mankind. He has been trying hard to solve its mysteries and studying it quite systematically. He envisaged different branches of science to study different aspects of nature. For example Physics deals with the laws of nature, Botany and Zoology deal with flora and fauna while Geology tries to peep deep down inside the earth and so on.
Above all, there is yet another subject, which attempts to observe everything not only under the Sun but much beyond. It is Astrology. Astrology is a divine science, which probably handles everything without exception, from mini to maxi and from micro to macro. Obviously a sumptuous subject like this has to be quite complicated and so it is. Unfortunately, the research in Astrology could not be continued at the desired pace as it has been with other branches of science. Some of the so-called `intellectuals' even go to the extent of branding it as superstition.
Since time immemorial our seers and sages have tried to identify the rhythm of nature and universe and attempted to put them into the verses (shlokas) of Astrology. We are quite fortunate to have most of them inherited. But side-by-side it also entrusts us the responsibility of furthering it through research and honest hard work in order to make the laid down principles of Astrology more contemporary.
This book is a small step in this direction. Kaalchakra, the Wheel of Time moves on and on ceaselessly. It is this wheel of time only which defines hours, months, years and centuries. Seasons come and go in a cyclic order. So it is perhaps with all the events and occurrences in the cosmos. Everything has to move, rotate and revolve as per the dictates of Kaalchakra!
I have endeavoured to delve deeper into the theory of Kaalchakra and have discovered a definite and orderly flow in it. Its knowledge may be scientifically and logically applied to read out the attributes in a horoscope. I am presenting my findings in this book for the benefit of the readers and all the students of Astrology.
Read more