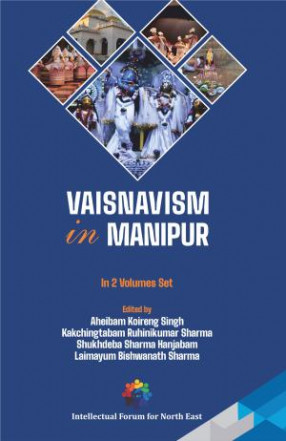 Preview now
Vaisnavism in Manipur (In 2 Volumes)
Synopsis
his book entitled,Vaisnavism in Manipur, is brought out in two sequels. Volume I which deals with the Experiences on Life, Culture and Beliefis an anthology of Manipuri culture, religion and way of life which have been authored by the reputed scholars of Manipur intending primarily to locate the core values of the society that binds as underlying principles in continuing process of evolving a new form of life. It deals with different aspects of philosophy, culture and religion from the perspectives of continuity and change with a new paradigm that explains the cultural fusion which occurs in the history of Manipur.

Volume II deals with the Performing Arts which evolved with the Hinduism starting to occupy a central position in Manipur's social and religious life since the beginning of the eighteenth century. The guiding spirit behind the publication of these volumes are to initiate informed academic debate on the history and development of Vaisnavism in Manipur and its impact on the worldview of the Manipuri community. Therefore, some of the chapters included, may not be palatable to many. Yet, they are incorporated considering their importance from the perspective of historiography of the performance and narrative tradition of Manipuri Vaisnavism hoping that it might help in initiating further academic discourse sans polemics and politics.

Contributors are persons with fair amount of accomplishments in their respective fields. Some of the contributors particularly the younger scholars are both academics and performer as well. It is a compilation of the writings of traditional and modern scholarship and envisages in serving as a bridge between the old and young. It is a humble effort towards understanding some aspects of Manipuri culture and associated practise in particular and to look for possibilities of connexion if any, with the countries of Southeast Asia in general.
Read more
Books by the same authors