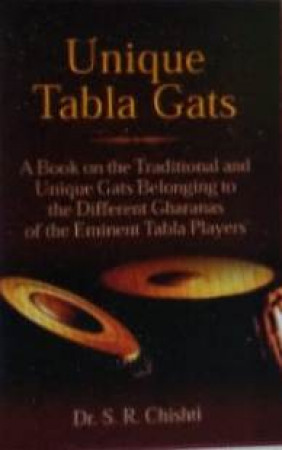 Preview now
Unique Tabla Gats: A Book on the Traditional and Unique Gats belonging to the Different Gharanas of the Eminent Tabla Players
Synopsis
This book deals with the importance and necessity of the Gats in present time. For long, these have been overlooked and soon they are going to get extinct. Therefore, the writer, through his book, has attempted to revive the culture of practicing the Tabla with the traditional Gats of various gharanas.
There has been a considerable change in the interests of students when it comes to playing the Tabla. Youth of today like to practice the rela instead of traditional gats, gat qaide, gat paran, gat tukda or farmaishi bandish so as to get faint praise as soon as possible. They are not worried about traditional compositions. Hence, they do not try to learn the basics of the Tabla. One should remember that just riyaz (practice) is not sufficient. A player should possess the in-depth knowledge of the nuances of the Tabla. It is essential for a Tabla player to learn ample number of gats from a reputed Ustad for a long period to acquire a complete knowledge of the art of playing the Tabla. Finer aspects like the correct way of producing distinct boles, deeper understanding of all six gharanas along with an absolute authority over laya and laykari are a must for a Tabla player. Needless to say, the utmost respect for the Ustad goes hand in hand with all the theory and practice.
It is a sad state of affairs that the culture of practicing old gats is declining rapidly. With a decrease in the number of reputed Ustads, it is imperative for the young generation to revive the culture of practicing Gats before they are lost forever from the face of this earth. Many Gats have already died out and hence, it is indispensable to preserve the remaining gats lest they are extinct forever.
This book aims at preserving the collection of the gats which have been compiled by the author from various sources. Some of the gats, in this book are extremely rare and they have been procured through direct contacts with legendary Tabla Maestros like Khalifa Ustad Afaq Husain Khan, Ustad Ilmas Husain Khan and Professor Girish Chandra Srivastava etc.
Read more