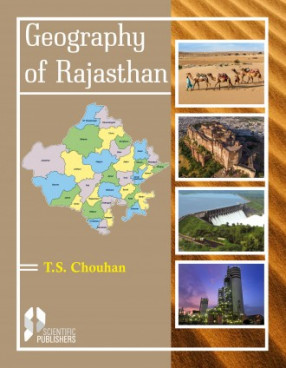 Preview now
Geography of Rajasthan
Synopsis
Rajasthan is a land of extremes and the present book indicates the great variety in relief, climate, soil, vegetation, agricultural activity and mineral deposits.
Rajasthan is endowed with diversified natural resources. The survival of mankind has always been supported by nature and its resources for centuries man has been exploiting these resources for his survival and development. In the rapid march of progress, the balance that needs to be maintained between exploitation and regeneration was however largely ignored. With the increase in population there has thus been great pressure on these resources leading to their scarcity and degradation. Proper Planning for management of growth is possible only when relevant information of resource, population, availability of social and industrial infrastructure and the trends in growth are known.
The aim of the books is comprehension and understanding through functional co-relation Detailed in information is furnished for the purpose of illustrating a point and general functional relationship.
The Subject has been treated in its regional aspects and an attempt has been made to preserve a balance between the physical, human and economic aspects in this book. In a book dealing with a state such as Rajasthan where agriculture, animal husbandry and mining industry are of a paramount importance, it is natural that much space has been devoted to these aspects of economic geography.
This book provides updated information regarding land, people available resources and infrastructural facilities mainly through maps, graphs, charts and tables. I hope the book will be very useful for planner's researchers, teachers, Students, NGO and all those interested in developmental activities.
Read more