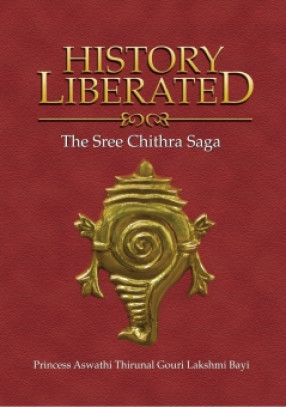 Preview now
History Liberated: The Sree Chithra Saga
Synopsis
The key figures in this book are the author's uncle and grandmother. They are Sree Padmanabha Dasa Maharaja Sree Chithira Thirunal Rama Varma and his mother Maharani Setu Parvathi Bayi. However, this saga is not only about them or the royal family. It highlights how, as rulers, they looked upon the millions of people of their kingdom as their own family and how, in turn, the people showered respect and devotion on them.
This work strives to encompass a decisive period of Travancore's significant history, its rulers and royalty of the period under survey. It includes the cyclonic changes that swept across India, particularly affecting its hundreds of monarchies and the ancient identities of many domains, with focus on fair Travancore. It covers a formidable canvas of time, starting even before the births of the two royal cousins, Maharanies Setu Lakshmi Bayi (who later became the Regent) and Setu Parvathi Bayi (who became the mother of a Maharaja), to the time Sree Chithira Thirunal moves on to the feet of Sree Padmanabha Swamy, his adored God and Master. The attempt has been made to bring in the times of trial he and his mother's branch of the family underwent during the years he was the Maharaja in minority. It also reflects the years of pre and post-monarchy rule and thereafter. The triumph and trauma in the private and public lives of these illustrious personalities, and their own bouquets and brickbats, all find a place here. Personal memoirs of many family members, who can be considered as 'living records', command the space of the second section of this volume.
The effort has been to focus on at least part of what has remained an untold story—to no longer sanction silence, to liberate a part of history which has been misrepresented at times, to put the record straight to some extent possible and intentionally avoid some highly sensitive areas. This effort has translated in words as History Liberated, as parchment of an era.
Interesting, informative, intriguing and explosive ─ a saga in royal hues unfolds.
Princess Aswathi Thirunal Gouri Lakshmi Bayi, a member of the royal family of the former princely State of Travancore, is the niece of Maharaja Sree Chithira Thirunal Rama Varma, the last ruler of the State. An Economics graduate, she is a distinguished writer. She has over 150 poems, several articles in English and Malayalam, and 12 books to her credit. Many of her writings have been published in prominent journals of India and abroad. Her first book Thirumulkazhcha is a compilation of her poems that expresses her deep emotion on the last days and subsequent demise of her beloved uncle.
The Dawn, Thulasi Garland, The Mighty Indian Experience, Glimpses of Kerala Culture, Rudraksha Mala and An Amateur's Attempt At Poetry are some of her major works. Her frontline work is Sree Padmanabha Swamy Temple which is not only a treatise on the Temple, but also a testament of her deep faith in her family Deity. She has also authored one Malayalam translation and two collections of Malayalam essays.
The Princess is a recipient of 39 awards. These include 'Sree Padmanabha Swamy Kshetra Garuda Kala Samskarika Samithi Award', 'Sree Sarada Education Society Merit Award', 'Vijayadeshami Puraskaram', 'National Eminence Award' (Mumbai), 'Kala Poshaka Award' (Mysore Lalitha Kala Academy), 'Malabar 2010 Award for Research Writing', 'Indus Literary Award' (USA), 'Malliyur Srimad Bhagavatha Puraskaram', 'Baba Saheb National Award 2016' (Delhi), Interfaith Leadership Award 2019 (instituted by the World Yoga Community Inc., New York, USA), among others.
Married to R. Raja Raja Varma (late) of Paliakkara (West) Palace, Thiruvalla, she is blessed with two sons and three grandchildren.
Read more