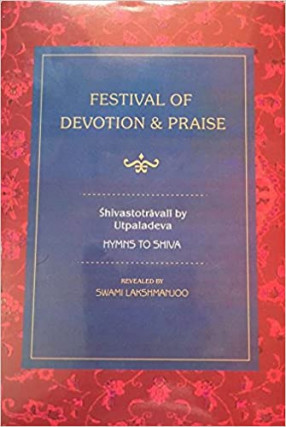 Preview now
Festival of Devotion & Praise: Hymns to Shiva (Shivastotravali by Utpaladeva)
Synopsis
The enchanting verses of the Sivastotravali were born on Kashmir Valley's Dal Lake as an inspirational outpouring of devotion from the - heart of the medieval Kashmiri master and mystic Utpaladeva. faronrs hymns are so profound they have the power to free the devoted reader from the restrictions of his or her intellect and elevate them to a state of yogic sahaj (Spontaneous) experience of oneness with their very nature of pure consciousness. When commenting on this text, Kashmir Shaivite master and saint, Swami Lakshmanjoo would tell his disciples that, as Utpaladeva taught us through these beautiful hymns, devotion or "passion for God consciousness," is everything.
"This is also a great wonder to me, that, in reality,
by nature this mind is the seed
of pain, sorrow, sadness and torture.
But the seed, when watered
with the nectar, of Thy devotion,
bears the fruit of final liberation."

Although these hymns were composed more than a thousand years ago, the Sivastotravali is recited to this day by yoga devotees worldwide. It is probably the greatest example of Kashmiri Shaiva devotional poetry that there is.
Read more