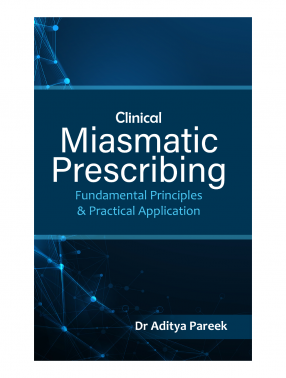 Preview now
Clinical Miasmastic Presscribing ( Fundamental Principles & Practical Application)
Synopsis
"The difficulty lies not so much in developing new ideas as in escaping from old ones."
The above quote by the father of modern economics John Maynard Keynes aptly sums up the reactions received by Hahnemann's "Theory of Chronic Diseases". The concept was too radical even for Hahnemann's staunch supporters. It is still common that at first glance, the theory of chronic diseases by Hahnemann may not appeal to a lot of physicians. The more one studies it and sees it practically, the more one realises its indispensability.
This book is divided into 3 sections.

1. The first section deals with the Principles of Miasmatic prescribing.
2. The second section deals with a comparative study of the symptomatology of the three chronic miasms and remedy discussions.
3. The third part includes selected cases.

The first section aims to convey the fundamentals of the theory, its usefulness, and brief history. It also deals with the applied aspects of theory, that is, anti-miasmatic prescription. Authentic fonts like Hahnemann, Boenninghausen, Kent, J H Allen, Clarke, Hughes, Herbert Roberts, and Ortega have been extracted. In the second section, considering the importance of a clear clinical differentiation, comparative tabulations have been provided for clinical utility. Attempts have been made to discuss the solution for most of the symptoms mentioned. Information about the symptoms of psora. it is originally from Hahnemann's "chronic diseases". For the other miasmas, sources like JH Allen, Roberts, Kent, and Ortega have has been trusted. The third section that includes cases is not a long case. collection of chronic cases, rather only aims to show the applicability and practical utility of the theory in common clinical situations for a better understanding of the principles discussed in the first part. Undoubtedly, a lot of work has been done on miasma. However, this presentation is a work on miasms from authentic sources such as from Master Hahnemann, Dr. Boenninghausen, Dr. Kent, Dr. J H Allen, Dr. Clarke, Dr. Hughes, Dr. Herbert Roberts, Dr. Ortega, and clinic experience in one place, which will undoubtedly facilitate reference list.
Read more