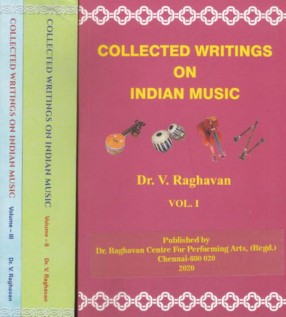 Preview now
Collected Writings on Indian Music (In 3 Volumes)
Synopsis
Dr. V. Raghavan (1908-1979) is without doubt one of the most eminent musicological Sanskritists of our country. There is hardly anyone in sight whose scholarship covers so wide a spectrum of subjects in such an authoritative manner. His interest are varied and the output prodigious. The efforts of "Dr. V. Raghavan Centre for Performing Arts" have to be commended for undertaking to publish the writings of this great scholar. Some works have already been published and more are to come out soon.
"Collected Writings on Indian Music" by Dr. V. Raghavan which is to be released on the 99th Birth Anniversary of the author (22nd August 2007) is a three volume work running to over a thousand pages. I have before me the list of articles to be included in this publication, which shows the tremendous versatility of the author. Apart from his classic treatment of Tyagaraja he delves into the intricacies of the achievements of the other two members of the Trinity. I have violin got introducted into the Carnatic music and of which it has now become an integral part. Here is an article "The Indian Origin of the Violin" which will probably give answer to my repeated queries on the subject. The collection contains a number of articles on instruments like Mrdanga, Nagasvara, the Drum, the Vitta, the Ghutigru and instruments from Nepal. He wrote about the music of the Hebrews, the Burmese, and the Todas as also of Amir Khusrau and Cita Govinda.
I do not know how to applaud the great achievements of Dr. V. Raghavan. It seems I will have to wait till I read his note on "Applause in Ancient India".
Preface Voll- II
The Collected writings on Indian Music in three volumes by Dr. V. Raghavan has been in great demand from various parts of the globe over the past few years, ever since its first edition appeared in 2008. The second revised edition has been now taken up with addition of transliteration of Sanskrit texts in the writings along with few more articles of the author, thus making the collection, an invaluable treasure.
Read more