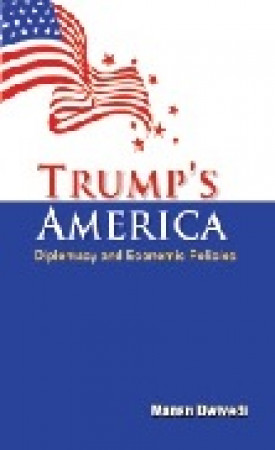 Preview now
Trump's America: Diplomacy And Economic Policies
Synopsis

About the Book
The Book is a labour of love and attrition as liberals mount an aggressive and vitriolic attack against the Regime of President Donald J. Trump. The work delineates upon the both the domestic policies and the personalised Diplomacy of President Trump. The Domestic Trump as the author calls it referrers to the President's trade policy, Immigration quandary along with the Climate change and the Electioneering themes of the most powerful leader in the larger international system. Prez's twitter responses and the entrepreneurial bit on the American Dream too find a vocal place in the narrative of the Book. The Book is a timely addition on the" America First Diplomacy" of President Donald J. Trump.
Contents :
Preface, Acknowledgements,
1. The American Dream: Trump's Way
2. The Immigration Conundrum : President Trump and his Immigration Policy
3. American Hustings and Prez. Trump
4. The American Immigration Conundrum and Prez. Trump Part Deux
5. Trade and Trump
6. The Grand Captain America and the Serum: As Leaders Disagree
7. Gun Running: The Chutzpah of President Trump
8. US Elections and President: Trump's Rise
9. Culture is a vastly underrated and miscomprehended Term
10. Contemporary Basics: President Trump and the G-20 Summit in Osaka
11. Climate Change
12. India United States Cooperation in the light of the Larger Partnership
13. America Besieged: Will the Impeachment Trial be an Endgame in the US Senate?
Read more