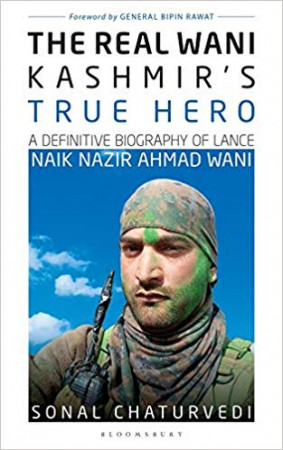 Preview now
The Real Wani-Kashmir's True Hero: A Definitive Biography of Lance Naik Nazir Ahmad Wani
Synopsis
What made a simple boy from the Kashmir valley turn towards terrorism?
Who were the Ikhwanis? Did they work against the State?
How did love blossom between an Ikhwani and a local Kashmiri girl?
Who was Nazir outside his army life?
Why did Mahajabeena not know about the last operation that Nazir went for?
Why didn't she shed a single tear at her husband's burial?
An ordinary man who lived an extraordinary life of poverty, hardship and glory, The Real Wani-Kashmir's True Hero is based on the life of Shaheed Lance Naik Nazir Ahmad Wani-the first person from Kashmir to be conferred with the Ashok Chakra, India's highest peacetime military decoration award. It is the story of the twists and turns in a young Kashmiri boy's life as a result of the situations that were beyond his control. Author Sonal Chaturvedi delves into Nazir's life and relationships, and reveals the man behind the soldier, while highlighting the personal sacrifices he had made, willingly, in the line of duty. The Real Wani explores Nazir's personal journey, in the backdrop of the changing political situation in Kashmir, through his childhood, his experiences in the Ikhwan and the Indian Army, leading to his final sacrifice for the country.
Read more