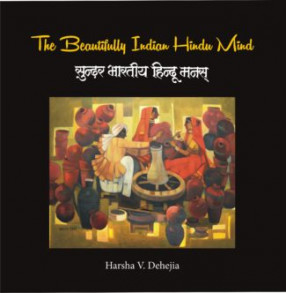 Preview now
The Beautifully Indian Hindu Mind
Synopsis
It is through the Indian aesthetic mind and its concepts of the beautiful that the Indian civilization can be best understood, for in that mind are pages of history and voices of the past, in it will be heard the sounds of our dancers and in it will be seen the colours of our fabrics, it is a mind which treasures the aroma of the earth for in it we shall find terracotta figures that will whisper stories of times gone by. In that ancient mind silent stones will speak of sthapatis who not only built temples but also havelis, in that very mind rivers will whisper of saints who meditated on its banks and also of mountains which will beckon us to caves where truth was discovered, in that pristine mind stars will talk to us of astronomers who counted them, in that radiant mind we will meet scribes who created beautiful manuscripts and painters who immortalised our gathas and kathas through their kalam.
This book is a journey into that charmed and beautiful mind from which has arisen concepts and ideas, forms and textures, words and music, movement and stillness, philosophy and worship, myths and their celebrations. The book is lavishly illustrated and is a visual delight.
Contents: 1. Introduction. 2. Drishti. 3. Almond Eyes and Lotus. 4. From Gajagamini to Mriganayani. 5. Dhi. 6. Shabdaranjan. 7. Kama to Krishna. 8. Venerating the Home and the Earth. 9. The Body Beautiful. 10. Time, Sacred and Secular. 11. Ritu Samvad. 12. Fabrics. 13. Nirmalya. 14. Vidai.
Read more